Erlend Krauser is not only a guitar virtuoso who excels in phrasing and tapping techniques, he is also a thought leader in using digital modeling technology on professional stages. On top of that, his life story is more than remarkable.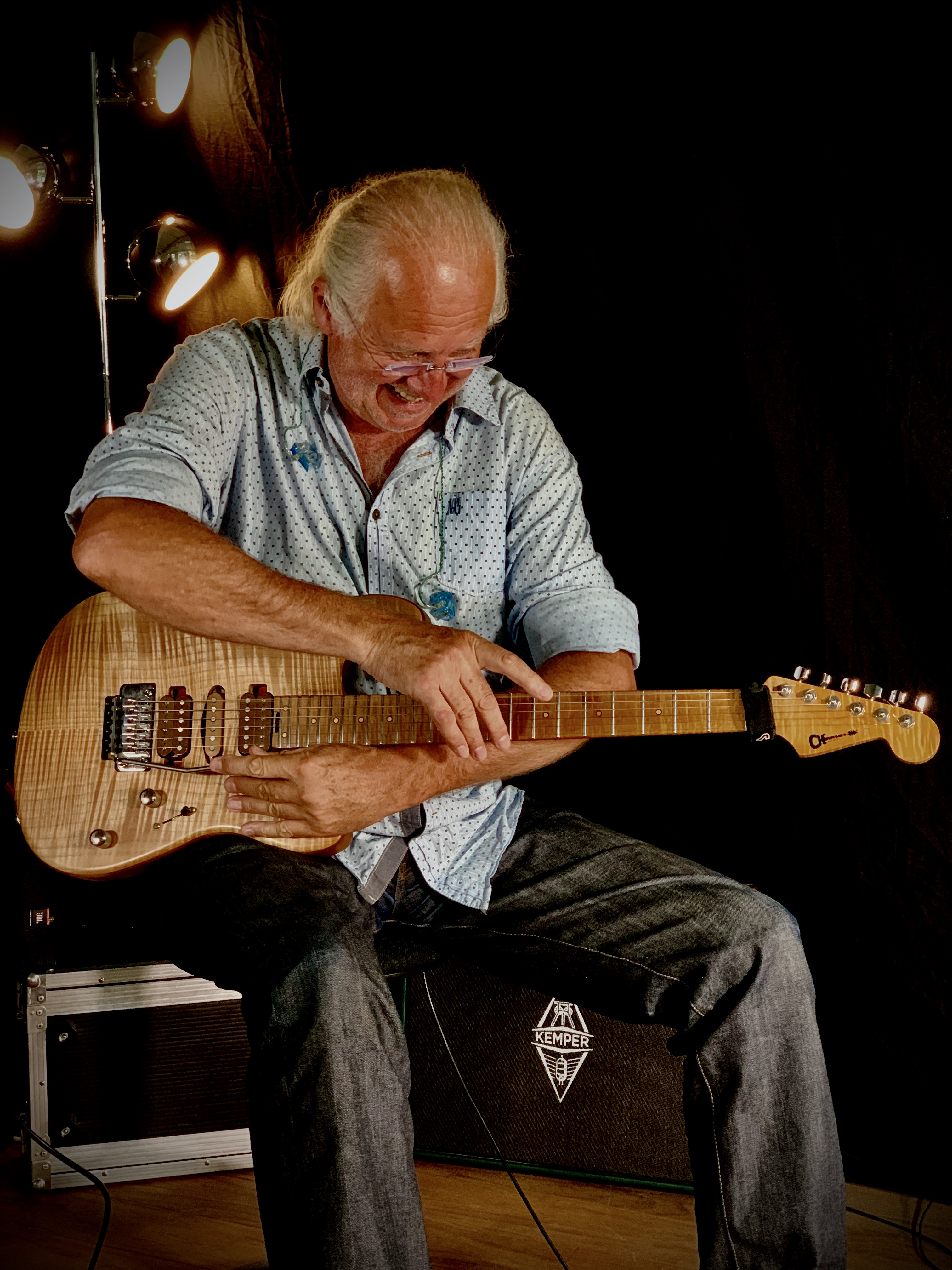 Erlend Krauser was born in 1958 in Timişoara, Romania. His father was a classical orchestral musician, piano-tuner, and violin-teacher at the same music-oriented school, Erlend and his brother attended. He made sure, young Erlend practiced the violin every day, starting at the age of 5. He then became part of the Romanian rock act Phoenix, fled the country under the rule of dictator Ceaușescu and started life as a musician in Hamburg, Germany where he played with several bands, composed soundtracks, and music for commercials. Besides being a solo artist and studio musician, he was part of James Last's Big Band until the death of the legendary, internationally renowned bandleader.

What is your musical education?
Learning the violin at the age of 5 is no fun at all. You need to stay home and master this advanced instrument while your friends play soccer outside. Also, my step-father was very strict. He didn't live with us, so he came by irregularly checking if we were doing our practicing. My mother wasn't always there, so my grandma watched over us. Obviously, we took our chance to play outside. But when we got caught, we got beat up. While these years were a curse, they were also valuable for my musical education. The violin is the best possible instrument to train your ears since you have to master all the micro tunings. Today, I do no longer play the violin well and would need assistance by software such as Melodyne to achieve good results. At least I know how it should sound. Playing the violin on a high level means to keep practicing for the rest of your life. But I don't have the time to do this since the guitar needs my full attention.
When did you move over to the guitar?
I already knew I wanted to play guitar when I first heard Voodoo Chile at the age of 10. The band Phoenix (www.transsylvania-phoenix.de) came from my hometown. They were really popular in Romania – playing stadiums and arenas and had a distinctive sound. I was a fan and bandleader Nicu Covaci (www.covaci.de) gave me a couple of guitar lessons when I was 11 or 12.
I went to his tiny room at his aunt's place after school. Besides a bed, the room was filled with Marshall full stacks, non-master-volume amps. Obviously, everyone had to leave the house when they were practicing. But it was the sound I was looking for: A Stratocaster and a Marshall at full level.
Nicu showed me picking techniques because my left hand was already trained. He noted I was already playing better single notes than him but was inexperienced with chords. Very soon after, I first joined a band called Pro Musica and later on Phoenix, playing the violin into his Marshall amp! This sounded pretty infernal and noisy. But Nicu was my hero and we practiced doubled melody lines.
Phoenix was originally a beat-band but had to include folkloric elements to avoid being banned by the Ceausescu's censorship. Later on, around 1970, I got to know bands from Hungary such as Omega and Locomotive GT. I loved their sound because they were using the early PA systems which had a full spectrum while Phoenix used four Marshall stacks spread across the audience for drums, guitars, bass, and vocals.
Tell us about escaping Romania
Nicu married a Dutch woman and left the country around 1975/76. We kept gigging with Phoenix without him and even were part of a 6-months-tour with several other artists. We only played one or two originals and did blues-rock for the rest of the time – Hendrix, ZZ Top, Ten Years After.
In June 1977 Nico suddenly returned and played a few concerts with the band. One day, he invited the band to his mother's house and announced that he would expect every band-member to immediately decide to flee the country or not do it and keep quiet until the escape was over. I was enthusiastic, but it was still a drastic decision to make. And to be honest, I was unaware of the risk we were taking and that we could have easily been shot. Nicu and Alex were driving while four of us had to be hidden in Marshall cabinets when crossing the border.
Actually, we were locked into these 4×12" cabinets. I am tall and had my knees under my chin. It was tight as hell, everything hurt and I had problems breathing.
We all had been given a pill to calm down and it was out of the question to make a noise because you would obviously be recognized along with the others. We had sausages and cheese to distract the dogs at the border control and they even lifted up the cabinet I was in. It all felt endless. Finally, I heard one of the officers say: We'll let you leave the country, but you won't be able to return. So we went across the bridge to Yugoslavia. We were freed from the cabinets in a forest and continued to Austria. They didn't let us pass at first because they wanted a deposit of 5.000 DM to prevent smuggling. As a result, the van was sealed and left in no man's land – with us being in the cabinets once more. Obviously, Nicu and Alex had to break the seals to unlock us. So we lost that money. But we were able to continue our journey. And finally, we crossed the border to Germany by foot.
Did you then register as a refugee?
No, that was another issue. Our drummer was Romanian. Our bass player had a German-sounding name but didn't speak any German, while Covaci was stateless. Only Alex was German and my parents were German, too. For the sake of the band, we tried to avoid getting to Friedland which would have been the official reception camp.
It was pretty easy for me to get my passport and I successfully witnessed for our bass player, too. But still, we were not immediately allowed to work. We had to set up a limited company and borrow lots of money. In the end, I had to pay for the whole band. So the way to freedom was really expensive for me. And this is also true from a psychological point of view. I need to avoid tight and narrow spaces ever since.

When you came to Germany, what did you do?
The basic idea was to be able to live in a free country. Obviously, not everything was like I had imagined. I also had the idea that Phoenix would become famous over here. Only a month later when I saw Genesis in a concert, I knew that we would not make it. Then in 1980/81, I replaced Alex Conti in Lake for two years. And I started doing music for commercials and companies plus was hired as a studio guitarist.
Over the years I have produced CDs under my name with "Flight of the Phoenix" (1992) being the most successful. A year before that, around the time, "Talking Guitar" was released, I formed my own band. I booked my own tour and invested the money I earned from my other jobs. And when we played in Hamburg's legendary Logo club, I was referred to James Last who was recording in the city at that same time. He was looking for a guitarist who could play Spanish guitar. Well, I only had to say yes to take the job and to deliver of course. It worked. James then asked about my electric skills. So I played some groovy stuff with ping-pong-delays which was a great addition to Peter Hesslein (Lucifer's Friend) who already played for him for ages. And that's how I finally joined the band.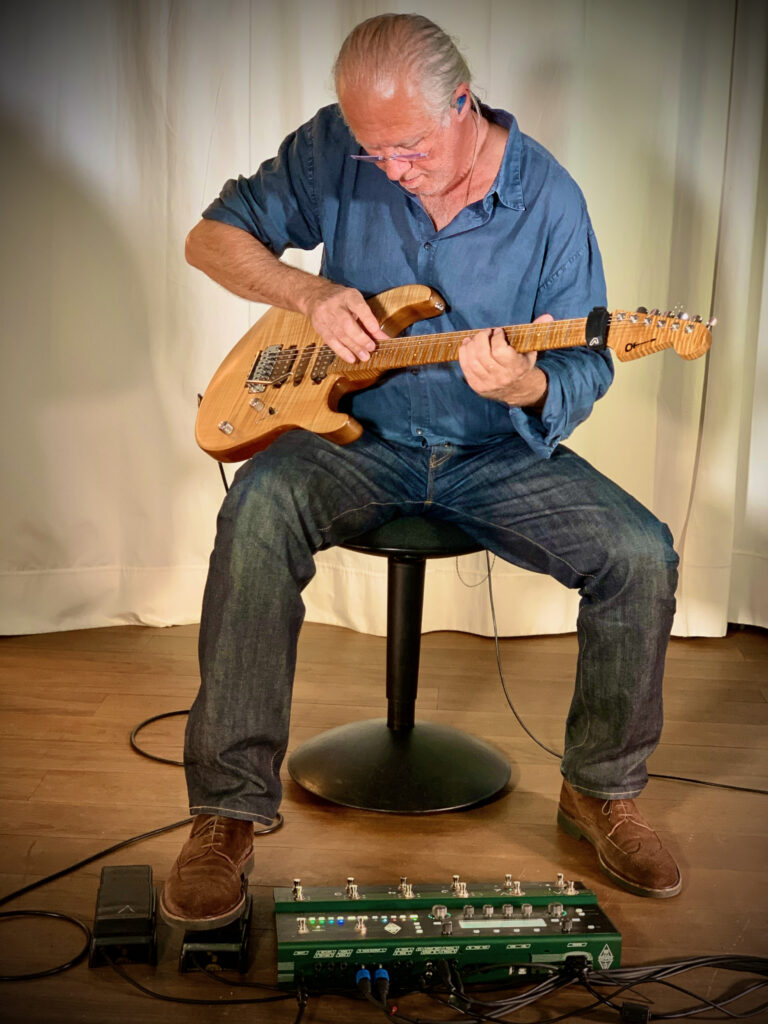 What took you to find your personal sound?
Today, people can walk into a store to get the Slash guitar and amp to sound like him, even before they play their instrument properly. It was different for me and I didn't have the know-how about different guitars or amps. I only had one amp at a time.
My ears always saved me. I was trying until I reached good results. In a studio situation this meant that I possibly wasn't able to get the sound the producers were looking for, but a sound that was good enough for the job. And it seems the producers enjoyed what I played. Back in the 80s I had a Music Man amp which I combined with a Roland Cube as a preamp. It sounded really fine, especially with a good Les Paul. My first Lake recording was done with that setup and I have to thank Udo Arndt for creating this sound. Only a few weeks later in a different studio, the very same setup didn't sound good at all. And there were several instances like this in my career. I never liked the idea of having a different sound in every studio, due to the acoustics of the room. With James Last I had to know my place in the spectrum. There were many instruments involved: Strings, brass, percussion, drum computers, a powerful synth bass – all before I even played a single note. The Spanish guitar was obviously featured in the mix, but the electric guitar was a different story. When James took me on tour the year after our first meeting, I played a Hughes & Kettner amp. Besides the acoustic instrument, I had a clean rhythm sound and my lead sound, which has a more warm and singing quality.
I used programmable delays, but the live tempo didn't always match the recordings. I interfered and we changed to play to a click track. I was part of the next five-album productions and I know James liked the structure that was brought in using the click. Varying the tempo too much will often lead to a lost feeling of the composition and its groove. That was 1992 and the 23 years to follow.
When did your current style of playing evolve?
As time went by, James gave me solos to play, often of famous songs where I had to imitate the vocal line. We had this Richard Marx Song "Now and Forever" which Milva sang in German. And within a really small group of musicians, I took over the vocal part with my acoustic guitar from the Milva recording accompanying me. I managed to do that with my existing technique. I could also get sufficient results with a clean Stratocaster when interpreting "Always on my mind" by Willie Nelson.
It all changed when James asked me to work on Christina Aguilera's "Hurt". I was almost immediately aware that I couldn't master this track with my existing technique without sounding ridiculous.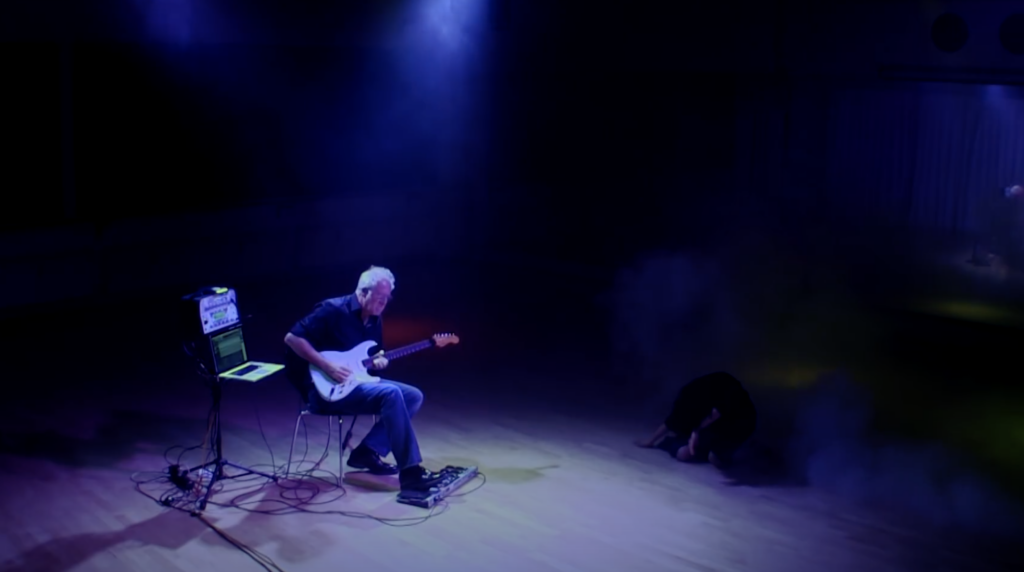 The melody is real simple in some parts and really incredible virtuously framed in other parts of the song and it required to bring life into the phrasing, just like she did in a truly amazing style. I needed to shape, bend, and modulate every single note.
I was about to give up when I had the thought to let the plectrum go. It took a few more days until I knew that I would have to play identical notes at different registers with individual bendings. I had about four months to master this new way of playing before bringing this to the stage, so I really practiced countless hours. My new approach included tapping and using different colors when playing identical notes on different strings. I really feel that this has opened a new door to my playing, including a different harmonic spectrum. I truly believe that this was given to me as a gift, call it a godsend.
From there it didn't take long until I came into contact with the Kemper Profiler. I did my very first demo video in 2013 which was an improvisation. I really liked it and decided to turn it into the song "Triple O" four years later on the album "Last Discoveries". A lot of my work is based upon improvisation. I'll play stuff over and over until I reach something nice to keep. I'll dive into the endless possibilities of tones and feel gifted to be able to access these notes. It is an intense process that gets me out of this world. And even James Last, aside from basic chord scripts, never told me what to play but trusted into getting good results, being grateful for what I invented for his arrangements.
Next, the Profiler came into my life. It is the best digital guitar amplifier so far and also frees my laptop from processing the guitar sound.
And how did you create your sound before using the Kemper?
To get my solo sound I needed a good preamp, a cabinet, and a Les Paul or a good Stratocaster. Around the same time, I started playing "Hurt" I was already interested in plug-ins. I was the first in the band to take a laptop on stage and perform with it, no cabinet. I have done this since 2002! And it was obviously completely different to the stacks of amps and cabinets of my first tour. I used Amplitube hosted in Apple's Main Stage and assigned a controller pedal to adjust the gain while playing using a Behringer FCB1010. MainStage allowed me to narrow the range of the pedal at the same time, which was another real discovery. Years ago, I was visiting the No.1 music store in Hamburg. I was testing small full-range speakers with my laptop. It happened that amp builder Nils Thomsen (Tube Thomsen) was there, presenting his latest model which was built for Matthias Jabs of the Scorpions. He invited me to try this amp. I said I enjoyed the basic tone but was so used to have effects at hand. He replied that he could build me an amp for my needs. But unfortunately, he died only three weeks later.
How many different sounds do you use in the Kemper Profiler?
My lead sound is just a single profile of that Tube Thomsen amp. For concerts, my guitar sound comes from the Profiler. However, in the studio, sometimes I also use a rare Marshall Super Bass 100 which was modified so it can be used as a power amp for the Kemper – a combination that often outperformed classic originals. The cabinet to this combination is a red Marshall 4×12". I am super happy with the results. I use in-ears and do no longer have any issues with the room I play in. It always feels as if I would play in my own studio. The consistency was already a huge benefit when touring with James Last and the laptop. I only had to instruct our FOH- and Monitor-mixing-engineers once and my sound was fine for the rest of the tour. This ensures a level of quality where you feel safe to perform.
So, I have this one profile which I vary in different gain settings, sometimes dynamically using the FCB1010 or more recently the Profiler Stage. And I use my Guthrie Govan Charvel signature which is my workhorse with 24 frets, no hum, a tremolo system, and reliable intonation unlike my older Stratocasters. For rhythm and additional guitar parts, I use a lot of different sounds of the Profiler.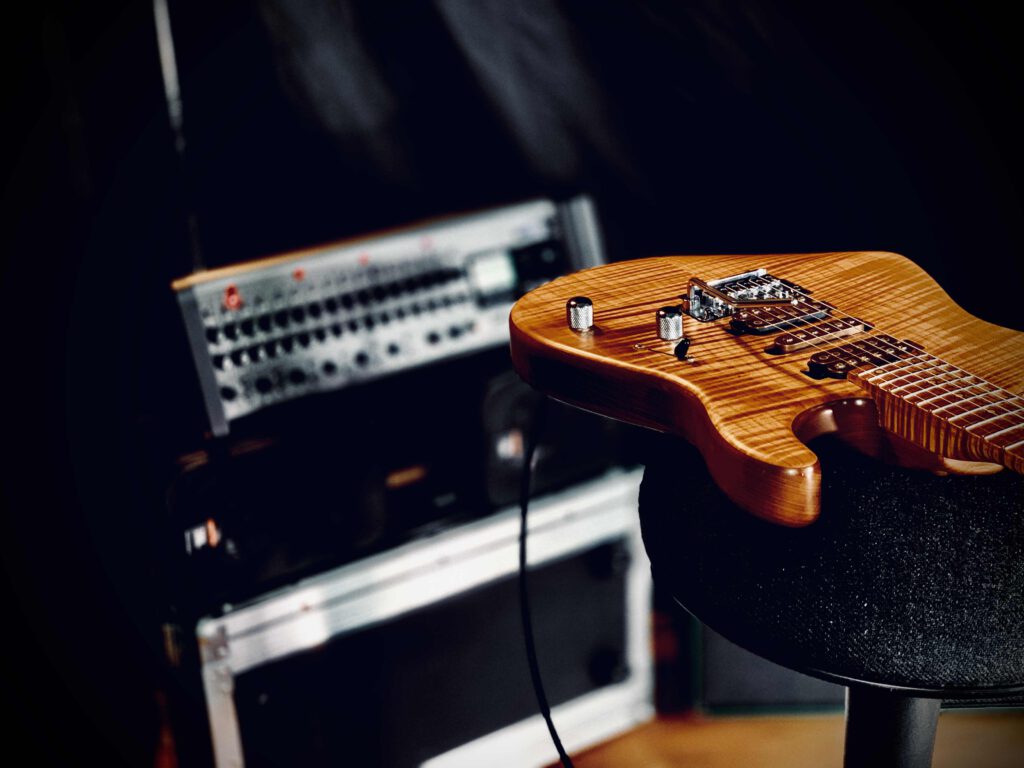 What about effects?
So far I haven't used effects from the Profiler, since I have so many great delay- and reverb plug-ins on my laptop, and I got so used to them, such as the Lexicon LXP Native Reverb and the SoundToys EchoBoy. But it is not that the Kemper doesn't offer good effects. In fact, the new algorithms are fantastic.
So my signal chain is: Guitar into the Profiler, monophonic output into my RME Babyface audio-interface with the least possible latency on my laptop which runs MainStage. The output signal of the Babyface then goes directly into the PA. This is a proven setup since 2015 where I was still touring with James Last.
One of the main reasons for using plug-in effects is that I can easily transfer the presets from studio productions in Pro Tools into MainStage. Plus, I use MainStage like a mixing console. The laptop provides the playback and the Kemper is added as a monophonic input while Reverb and Delays are added from Sends. It would take some time to adjust these sounds if I would be using the Kemper only. But I see great advancements since the Rig Manager can now be used as an editor. Changing effects on the unit itself while performing is less comfortable.
For my last Kemper video "Etude de la Libertad", I used the Profiler in stereo to demonstrate the morphing features. All effects came from the Profiler, too. And for the next clip, I will use the same setup to demonstrate even wilder morphings, such as crazy filter sweeps and more. The Profiler Stage model is great here because it offers easy and immediate access to the morphing.

Thanks for the nice chat! Find out more about Erlend at: https://erlendkrauser.de