Guitarist and composer Sus Vasquez was born in Medellin, Colombia, and currently resides in New York City where she produces her own instrumental music which fuses rock, ambient, soundtracks, indie, and progressive metal. Sus is also a touring and session guitarist that travels the world playing for many well-known artists.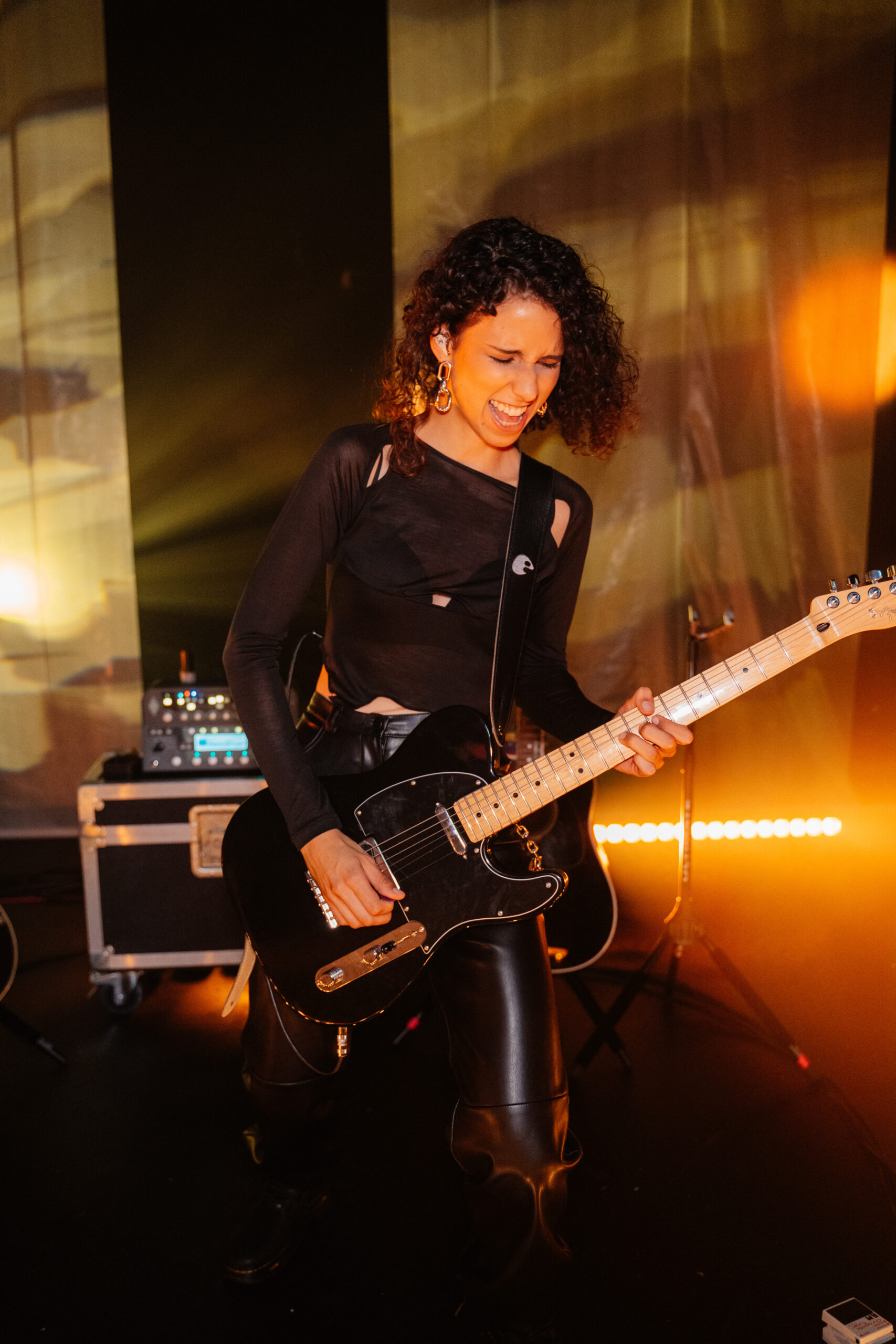 Sus took classes of guitar, music theory, composition, bass, piano and music production and did a major in Jazz guitar performance in EAFIT University. In 2016, Sus has was ranked among the Top 5 finalists of the Kiesel Guitar Contest, being the only female and individual from South America. In 2017, she was awarded with a scholarship for the The Collective School of Music in NYC. In the same year, she was also nominated as Best Guitarist by the XI Subterranica Colombia Awards. She was even granted an Honorary diploma by the Military Forces of Colombia "For her effort and dedication as a musical ambassador from Colombia to the world."
Sus is currently featured as a Fender artist and sponsored by Taylor Guitars, Dunlop, Elixir Strings, Kemper, Takamine, Eventide, Walrus Audio, and others.
She is currently the guitarist for Grammy-winner and top-selling Latina artist Karol G (http://karolgmusic.com), with whom she performed at the 21st Annual Latin Grammys Awards (2020), Macy's Thanksgiving Parade (2020), Premios Juventud (2021), YouTube's Hello 2021, NPR Tiny Desk Concert and many other distinguished events. She has also worked with Jacob Collier, Luis Fonsi, Anuel AA, Hope Tala, Renforshort, Blu DeTiger, Fletcher, Benson Boone, and many more.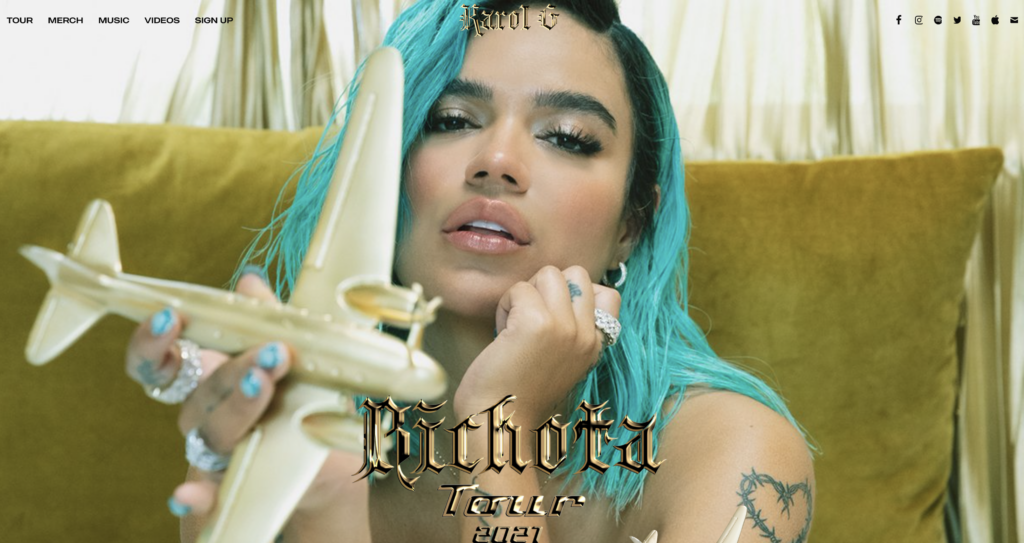 What's your approach to guitar sounds in general?
I started up being the typical player that uses an amp and a pedal-board. But when I started touring, especially with Karol G, I realized that was an issue. Every time I would come to a new venue I wasn't sure of how the amp was going to be. In many places the rented amps were broken, the tubes weren't working or the sound just wasn't right. Sometimes, there wasn't even an amp …
And the same is true for the recording part. I was living in an apartment where I couldn't make a lot of noise. Recording a real amp with a microphone wasn't an option so I started looking for different solutions.
I tried the Line 6 HD500X and the Fractal Audio AX8 and started seeing the advantages of using amp modelers. When on tour, this assures me and the sound engineer to send the purest sound to the PA. You won't have any issues with microphones and no noise bleed. Plus, you know that any place you go, you will always sound the same. I found this is very convenient, especially since I started using Ulitmate Ears in-ear-monitors. Using in-ears feels completely different from playing an amp in a room or in a big venue.
On these kinds of tours, in-ears are essential since there will be a click track and playbacks you need to follow. In addition, there was the necessity to be able to travel everywhere with the comfort of having something more lightweight. As a result, I felt I wanted to convert to modeling amps.
To be honest, it didn't feel the same in the beginning. But my experience is: With most equipment, it is all about the time and effort you put into it. You need to spend time finding your tone, learning the device, reading the manual, adjusting it to your liking, and also adjusting your ears and trying it on as many possible situations. Many people judge a modeler by trying a few presets and will only stay on the surface. However, these units can go really deep.
How did you come across the Kemper Profiler?
I had a gig where I had to jump in for the guitarist for Puerto Rican singer Luis Fonsi (https://luisfonsi.com). It was really important to me and a tough challenge. The musical director called me and I had about four days to learn a two-hour-show which was going to happen in Saudi Arabia. It was deeply arranged, everything written and on the point. I spend all my time learning these songs. And the day before the concert I realized, I had not thought about the sound design. I decided to use what the other guitarist was using. It turned out to be a Kemper Profiler which I had never touched or used before …
The whole flight from NYC to Saudi Arabia, I was studying the manual. Luckily, the Kemper is so easy to use that I was able to pull it off – also because every song was programmed. That show was insane since in Saudi Arabia, as a woman, you are not supposed to do … much. I was the only woman on stage with a lot of restrictions. It was a real challenge, but that's the stuff you really learn a lot from. Long story short: The Kemper felt simple to use and felt more amp-like than my previous modelers. A couple of months later, I bought my first Kemper!
Actually, I often receive emails and messages asking: What do you prefer, amp or modeler or which modeler is the best? And my answer always is: All of them have their benefits and drawbacks. I believe the best one is the unit you spend most time with, getting your tone and checking out your needs. So, it's really just not about the purchase, but about your efforts, too. And make sure to get to know every single corner as these modelers can do so much.
Tell us about your tone
I have always been a person that liked a lot of styles in general. For example, I did a project called Cinematic Intervals with my friend Juan Dussan (www.jpdussan.com) during the pandemic. I love soundtracks, scoring and movies and always had the idea of doing something like that, but putting more guitars in it. Juan is a film composer, so it was the perfect match. We did an album that mixes soundtrack, scoring, and a lot of guitars. I am really into sound design and can spend hours and hours creating new sounds by trying and tweaking the effects in the Kemper.
Playing guitar for Karol G is really attractive because Reggaeton or contemporary Latin music, in general, is mainly electronic with lots of synthesizers and samples.

As a result, finding a spot for the guitar can be tough. The instrument needs to sit in the mix, but mustn't change the style. You will need to avoid too many traditional sounds, distorted or clean. It was really important for me to start creating matching sounds. And since this is new music, there really is no guideline on how to do that. It's a creative field!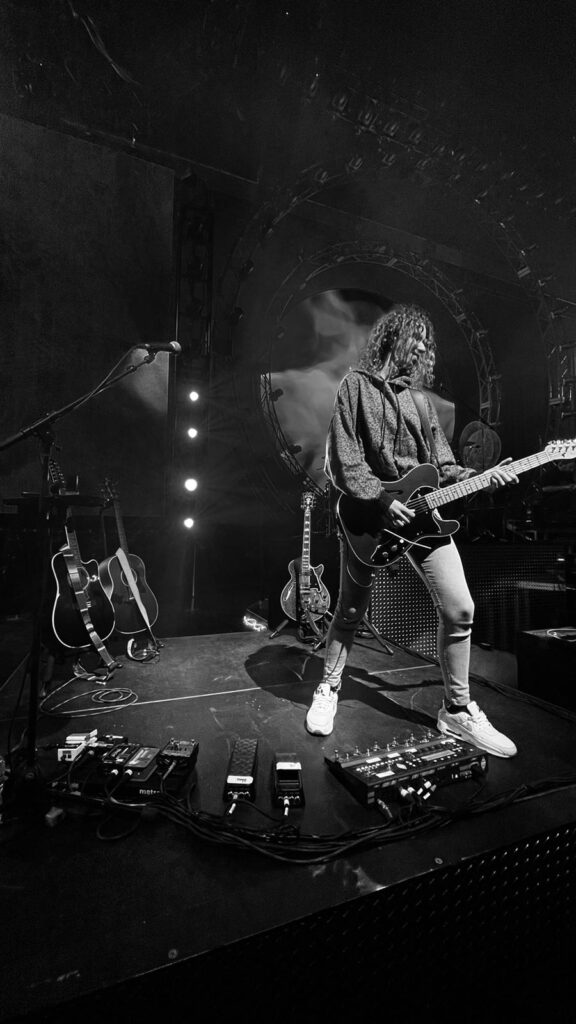 Many sounds I use do not sound like a guitar at all. I tried experimenting with everything I could find in the Kemper – from pitch shifting, filters to eq and reverbs. I will put lots of hours into a single sound.
Plus, I will try to recreate other sounds as the productions often contain synthesizers or instruments being heavily processed with effects and plug-ins. When bringing these songs to the stage I will either try to match the sound of an isolated track or find a sound that will pair up nicely when playing in parallel to it. A specific example is my use of the swell function in the Kemper compressor. I enjoy volume swells and I can be really specific in timing and dynamic here.
On this tour, I had to be able to immediately change from a synth-like sound to a clean sound with a wah to a heavily distorted lead and to a DI-sound. It's such a variety that would almost be impossible to do without a unit like the Kemper.
What do you use besides the Profiler?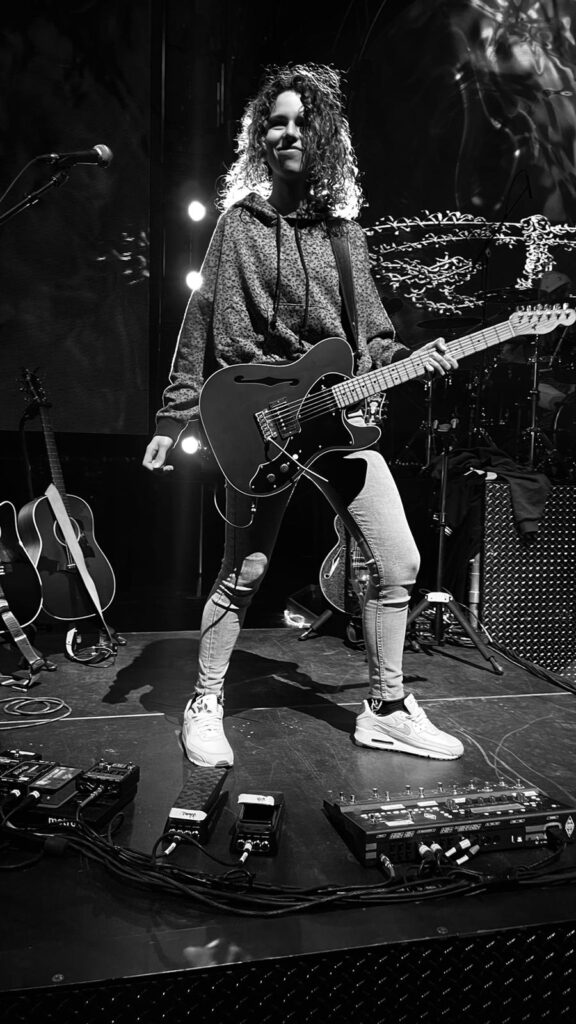 So far, I stay in the Kemper only but plan to add an Eventide H9 to it. Everything is programmed in tempo, because it all changes real quick. So far, I change all sounds manually. There is a setup for each song, with mostly three to five patches. However, I should be looking into doing these changes automated from a computer. But I really like to be in control at the same time. We'll see!
Will the FOH engineer add effects to your sounds?
He says he loves the tone. I am pretty sure, he doesn't change a lot, maybe adding just a little bit of compression. I know the monitor guy doesn't do anything to my signal. And I like it that way. I want to hear exactly what I programmed as I am really picky about the sound and need to be able to judge all my adjustments. And that includes the specific levels of my guitar in each song.
Also, the sound of the guitar alone really is not that important. It's the sound of the guitar in the mix that counts and contributes to the show as a whole. So, I wouldn't want anyone to add anything to my sound.
In my in-ears, I will have a full mix with the guitar, the click and the drums up in level. Since the music is heavily quantized you have to be exactly on the beat and the tempo. It's something you really have to learn. By the way: When I am at home, I will use the exact same in-ear-monitors that I use on stage. This way I will achieve consistency when creating my sounds.
What if you do solo work?
It all depends on the situation. I like to have a lot of possibilities. I have a bunch of real amps here and a Universal Audio Ox. SO besides using the Kemper, I may feel like using a real amp with the Ox for my personal projects or a plug-in when I am traveling. I like trying stuff. When I play local gigs, I often know that there is an amp I can use. In that case, I will bring my pedal-board only. But for the touring gigs, I will certainly go with the Kemper.
Where do you get profiles from?
I use profiles made by Michael Britt. There's a Two Rock profile I love for cleans while for leads I often use a Marshall profile. Taking my own profiles would be the next step for me.
When it comes to real amps I always enjoy Fender amps, such as my Princeton. For clean sounds, a Morgan AC20 is my favorite. I also own a Benson which is a mix of Fender and AC30 in a box. I also like to come back to Vox AC30 and AC15s for crunchy stuff and Marshall or Friedman amps for leads. Again, it depends on the situation.
Do you adapt the sound of the Profiler to the guitar you use?
I try to check if the sound still works if I change the guitar. Generally, I tend to leave the programs as they are. The whole show is tweaked using my Nash T-72T Thinline with two Lollar humbuckers. Fender also built me a custom Telecaster for the tour with Karol G and now that's my main axe at the moment. I use that instrument and a semi-hollow guitar which is a D'Angelico Deluxe SS. Depending on the song and the instrument I might tweak the brightness a little. But first, I'll check if it works as is.
Will you work in stereo?
It's always a must for me. I have ping-pong delays and tremolos and that's fun on the in-ears but also on the PA, of course. I also always record in stereo.
Do you run your acoustic guitars through the Profiler?
Actually, I wanted to do this on tour. Unfortunately, it wasn't possible because the engineer demanded electric and acoustic signals to be on different channels. Right now, it has to separate these signal chains. I would be awesome if I could have two inputs and two (stereo) outputs in the Kemper. I tried acoustic guitars with the Kemper and really loved it. I have combined it with specific impulse responses and it sounded great.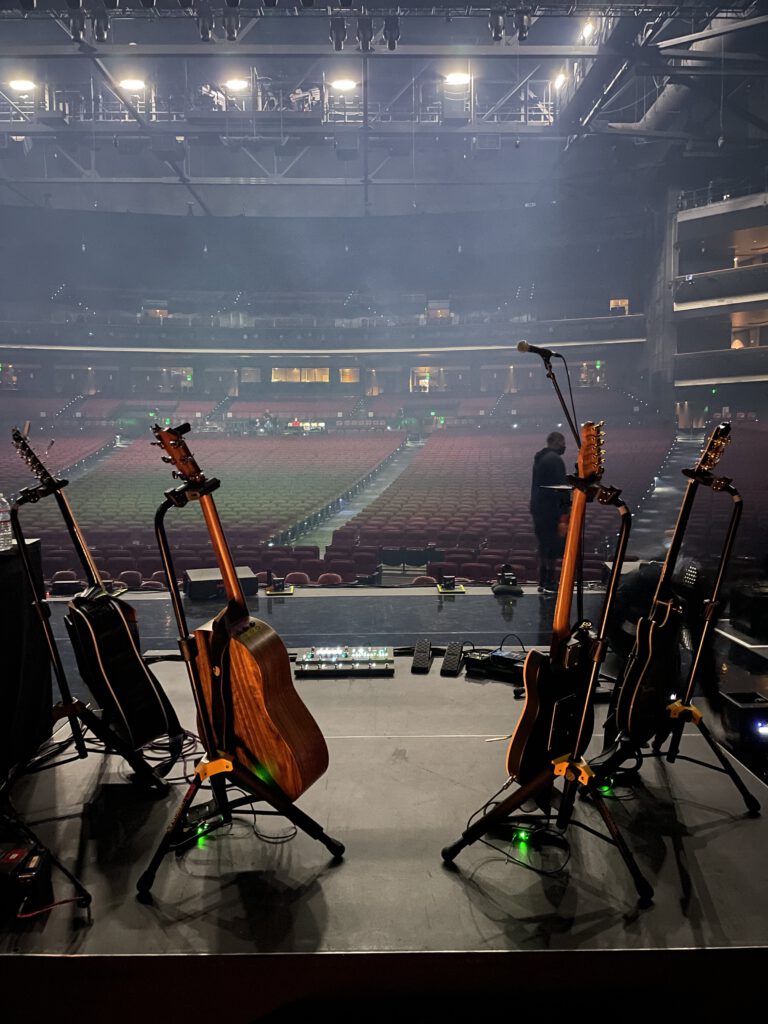 Do you have other features you wish for?
I would enjoy having a wider range of effects. I love the amp sound and do not need more than one at a time. But I miss certain effects in comparison to the Fractal Audio device. The effects can be more complex and you have better control when using an expression pedal. So, I would certainly appreciate more possibilities on the effects already available and more phasers, delays, reverbs, more synth sounds…
How do you record?
I often work from home now. I bought a lot of gear and have many amps, the Ox and the Kemper at hand. In some cases, I might go to a studio when I need to record an amp with microphones. But in most cases, I feel I get the same results at home. It's convenient and the sound quality is really top-notch.
Thanks for the nice talk!
Listen to Sus Vasquez: